Adjusting the Auto-Entities Card in Home Assistant
Mastering Home Assistant: Lovelace Dashboard, Wyze Doorbell & Auto-Entity Card tips.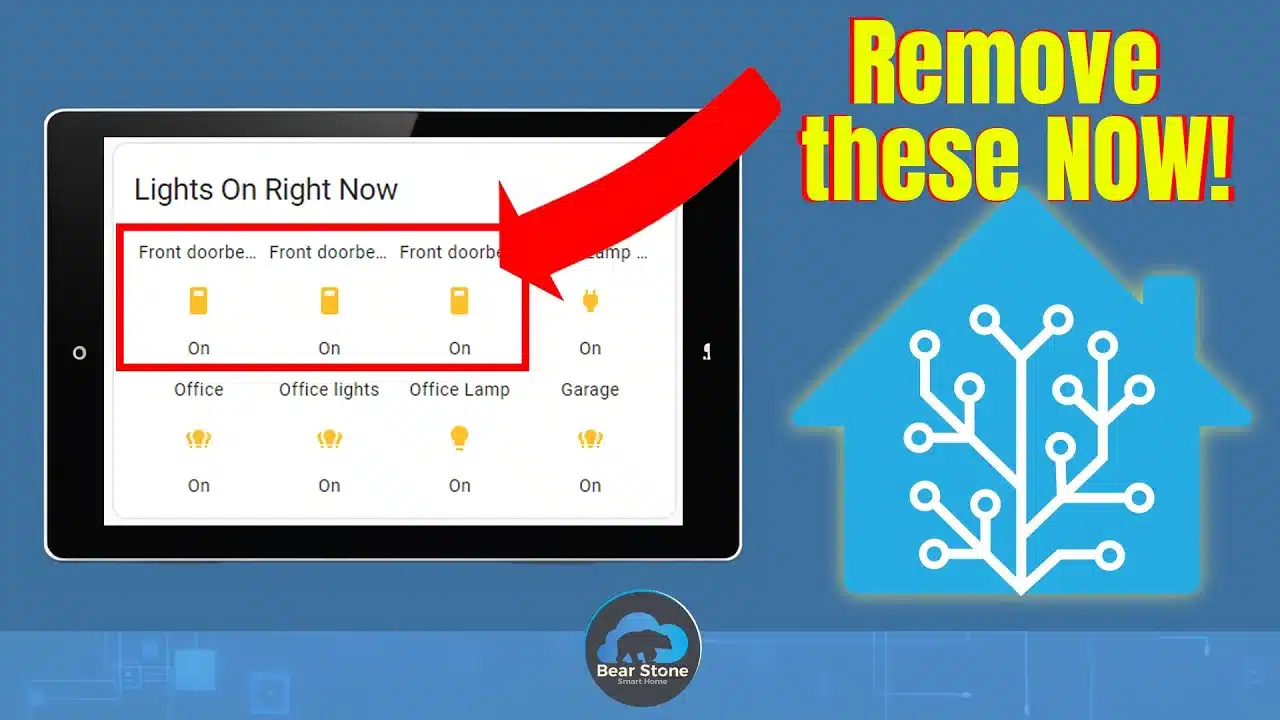 I have been using the Auto-Entity card for a while now in my Lovelace Dashboard. I use it primarily for 'What's on' type cards. Quickly see which Lights, switches, or even automations are currently turned on.
What's Running in Home Assistant? A Lovelace Card
If you're a Home Assistant user, you know that automations can be an incredibly useful tool for automating tasks and making your smart home more efficient. But sometimes, things don't go as smoothly as we'd like them to. Maybe a script gets stuck in a loop, or an automation doesn't seem to be working the […]
Recently, I installed a Wyze Doorbell and Home Assistant, which quickly added the various switches associated with it. Motion, Camera, and Power switches. I have a card that shows me all of the lights and switches that are on in the house so when needed, I can quickly turn them off. After adding the Wyze Doorbell, those entities popped into my card.
WYZE Video Doorbell with Chime (Horizontal Wedge Included), 1080p HD Video, 3:4 Aspect Ratio: 3:4 Head-to-Toe View, 2-Way Audio, Night Vision, Hardwired, Works with Alexa & Google Assistant
input voltage:100 -240V.Power: 16V-24V AC, ≥10VA (May use existing doorbell-chime circuit, or standalone transformer and wires.)
Instant Notifications: Never miss another visitor. Unless you want to. Receive instant push notifications when Wyze Video Doorbell is pressed so you know the moment someone's at your door. Pull up a live stream of your visitor before responding to decide whether you'd like to ignore a solicitor or answer the delivery driver.
3:4 Aspect Ratio: 3:4 head-to-toe view & 1080p Full HD Video: People are taller than they are wide. So is our live stream. Wyze Video Doorbell records and live streams video in 1080p Full HD with a 3:4 aspect ratio so you can see every visitor from head to toe. You'll also be able to see packages left on the ground beneath your doorbell.
Motion Detection, Smart Alerts & Video Recording: Wyze Video Doorbell lights up brightly when motion is detected nearby, alerting visitors and would-be porch pirates of your video doorbell. Plus, you can turn on push notifications to get a phone alert whenever anyone or anything approaches your door, even if they don't ring the doorbell.
Built to endure the elements: IP65 weather-resistant. Install Wyze Video Doorbell on your door without worrying about interference from the elements. IP65 weather resistance protects this doorbell from rain, snow, and sun.
Pulling these entities out of the card was very easy. The card YAML supports both an exclude section along with support for wildcards. See the code below:
card:
  show_header_toggle: false
  title: Lights On Right Now
  type: glance
  columns: 4
filter:
  exclude:
    - state: 'off'
    - state: unavailable
    - name: '*do not disturb*'
    - entity_id: '*pi_hole*'
    - entity_id: '*neato*'
    - entity_id: '*juicebox*'
    - entity_id: switch.bear_stone_active
    - entity_id: '*front*'
    - entity_id: '*wyze*'
    - entity_id: '*amp'
  include:
    - domain: light
      options:
        tap_action:
          action: toggle
    - domain: switch
      options:
        tap_action:
          action: toggle
show_empty: false
sort:
  method: last_changed
type: custom:auto-entities
Adding in the *wyze* took them out immediately. The card supports realtime previews so it is very easy to see the proper formatting and terms needed.
If you would like to see the 1 minute video demo, check out the Youtube Link below:
Happy Automating!
CARLO